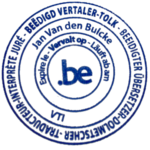 CERTIFIED & LEGALISED TRANSLATIONS
Need a translation for official purposes? Then ask for a sworn translator who can certify the translation and have it legalised in court. Below you will find an overview of the most commonly requested translations.
CIVIL REGISTRY
Certificates & extracts: birth certificate, marriage certificate, divorce certificate, death certificate
Proof of identity / residence / civil status / good conduct
Apostille
PERSONAL DOCUMENTS
driving licence, passport, identity card
medical certificate
diploma
residence document
OTHER DOCUMENTS
application
sales/purchase agreement
contract
NOTARIAL DEEDS
marriage and partnership contracts
founding acts, articles of association
last will, testament
LANGUAGE COMBINATIONS
These are the most frequently asked language combinations for certified translations. If you can't find the combination you need, do contact us. There is a good chance we will be able to help you!
DUTCH <-> FRENCH
DUTCH <-> ENGLISH
DUTCH <-> SPANISH
DUTCH <-> PORTUGUESE
DUTCH <-> GERMAN
DUTCH <-> ITALIAN
FRENCH <-> ENGLISH
FRENCH <-> SPANISH
FRENCH <-> PORTUGUESE
FRENCH <-> GERMAN
FRENCH <-> ITALIAN
FREQUENTLY ASKED QUESTIONS